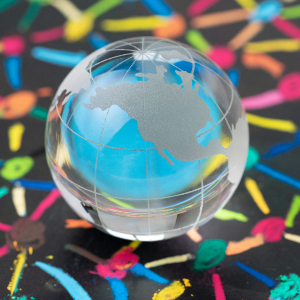 In the publishing industry, there are a lot of things we can measure. However, if there is no strategy underlining how and why we collect data and who can access it, the value is lost. Not only that, but we can put our business at serious risk of non-compliance. Ultimately, data governance is central to effective data analytics and underpins everything we do.
In this article, I'll explain the importance of data governance having a seat at the table with top business executives, including how a unified data governance strategy supported by secure, scalable systems delivers immense value now and in the future.
How Data Governance Informs Business Models
When it comes to data, the first question isn't whether you can measure something; it's whether you should. It's vital to ask yourself what your business model is. After all, it takes money to create content. There is a big debate in many publishing houses as to whether people should be allowed to access data if they don't accept cookies. If you can't measure what those consumers are doing and why, then do they still provide business value? If not, the business model needs to change. A lot of companies are trying to navigate the same landscape and there isn't a single standard on what you should do. Ultimately, while respecting regulations and people's right to privacy, you need to consider the business value of data. In our industry, sometimes content is given away for free and money made through advertising and at other times, content is subscription-based; what is true in both instances is that data governance informs that choice.
What you can measure or should measure hugely impacts what you can do as a business and can create a significant shift in your business model. Ultimately, you can't run a business if you're not sure about what you can measure and what the regulations are in terms of data governance. That's why I'm such a huge advocate of data governance having a seat at the table with top company executives; it has to underpin the business model and business strategy.
The Legalities of Collecting and Analysing Data
There have been a lot of changes in recent years from a privacy perspective, with GDPR and other regulations coming into force. To be compliant, every business needs to be aware of what data they measure and store and who has access to it. Data governance is there to ensure people only have access to the right thing, with the right controls in place to prevent any violations of that. It's vital to ensure people's privacy and data are protected, with no chance of it being misused. After all, getting it wrong has serious legal, financial, and reputational implications for individuals, businesses, and society as a whole.
To be able to manage the legal aspects of external data governance, having a strong legal team is fundamental. Having a data privacy group within your legal team can help you really understand risk and interpret what the law means for your business. It's no mean feat, of course. There is no one regulating body and the rules from one country to the next can vary greatly. It's extremely complex to navigate, which makes having data privacy experts on hand, and a legal counsel in particular, invaluable.
Meanwhile, internal data and accessibility need to sit as a data function within the technology team. There has to be a specific group, a data team, that ensures a business collects, surfaces, and stores the right information and makes it accessible. Only then can a data analyst or data scientist interpret that information and create business value.
The Benefits of Data Governance
If your employees have to search through thousands of columns of data that have no impact on their role, they are wasting time. It's like trying to find a needle in a haystack. By having the right policies in place to say who should have access to what data, you can avoid that problem. As such, data governance drives operational efficiency and has a direct impact on business growth. Moreover, ensuring confidential information is only accessible to those who need it reduces the risk of data breaches and non-compliance. Subsequently, protecting data has direct financial benefits. The other key advantage of data governance is creating a competitive advantage. As a compliant business, you're able to build consumer trust and brand advocacy. Not only do your customers respect you, but as a business that is transparent with data governance, you become a more viable business partner.
Data governance is all about upfront planning and it delivers a straight quantifiable return on investment. You can improve operational efficiency, drive business growth, and vastly reduce business risk.
Key Steps to Building a Data Governance Strategy
With many clear business benefits, getting buy-in for data governance isn't necessarily a problem. However, it's vital that it has a seat at the table with top business executives from the outset. Data governance should be in sync with business strategy and should never be left as an afterthought. Some of the key steps to building an effective data governance strategy include:
Appointing a data champion: To incorporate data governance into your business, you need a strong data champion, an executive who can lead the charge.
Building SMART data goals: You can only measure what you can collect. If you do collect it, you need to ensure it has the potential to add business value.
Creating a data dictionary: Having a well-documented glossary of metrics for your business and a unified data language helps create alignment.
Creating privacy and governance policies: Having the right policies in place helps ensure you collect the right data at the right time, and only the necessary people have access.
Building infrastructure: You need to ensure you have the right infrastructure and systems in place to backup your policies, along with the budget to support them.
Ensuring security: All infrastructure and data platforms need to be based around security, so data is used responsibly at all times. When security is built in from the ground up, it adds value to the data governance strategy.
Communicating with the business: Data governance should be well understood by company executives and respected as part of day-to-day operations. What's more, there should be a constant partnership and dialogue with the legal department.
After this, it's about setting priorities. Every piece of information within a business falls within the data governance spectrum. To be able to manage that volume, information needs to be categorised. It's a case of deciding what information is considered confidential in relation to customers, employees, and the business itself. More than simply adhering to regulations, it's about considering what information your business wouldn't want to share publicly. By categorising and prioritising data, you can reduce legal risk, improve operational efficiency, and build a competitive advantage.
Streamlining the Use of Data
While it's vital to build a strategy around how and why data is collected and who can access it, there also need to be processes in place to support that access. After all, data only yields value if it's accessible to the right people at the right time. Moreover, that same data needs to be secure. While there is no single right way to tackle data access, it's a vital piece of the puzzle when it comes to data governance. The process can be cumbersome and time-consuming. However, it can be streamlined by having workflows that automatically route requests to the right people and instantaneously grant access once approved. Streamlining the use of data takes the pressure off the data team, empowers data owners, and ensures everything is monitored and governed. Ultimately, it's possible to create self-service access to data within a well-defined security governance framework.
How to Prepare for the Future
Data governance needs to continually evolve to account for regulatory changes and new opportunities. Generally, it's easy to interpret the data compliance landscape and which way it's heading. It focuses on the basic need for people's human rights. With that in mind, businesses need to consider what the future looks like, create a multi-year plan, and shore up their defenses.
The other thing that every business needs to account for is the volume and type of data that will become available. The number of platforms that businesses use to reach their consumers has increased exponentially and that trend looks set to continue. Each platform is governed by specific regulations. Privacy is complicated and it's about to become a lot more complicated with the increase of virtual reality, artificial intelligence and the advent of the metaverse. Data security will continue to form an essential part of the data governance journey.
When it comes to data, and indeed business success, the companies that will come out on top are those that have the technology, people and processes in place to support data governance, enable analytics, and drive business growth.