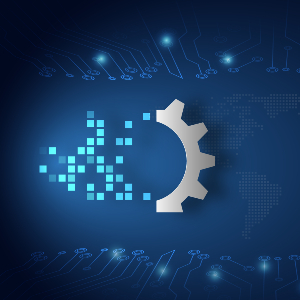 In today's digital business ecosystem, digital transformation is no longer an option for modern businesses. The foundation of a business's digital transformation is effective data management. Master data management services allow you to effectively utilise the new currency of data and effectively collaborate between different functional verticals, departments, and stakeholders for better productivity, efficiency, and customer experience. With benefits like improved data standards and quality, consistent and uniform data, enhanced data security, and holistic business insights, MDM transformation can be a great asset in helping you build a connected ecosystem and stay competitive in the digital era.
Digitisation of business operations gained momentum in the late 20th century, with increasingly more businesses embracing technology solutions to overcome day-to-day business challenges. Despite the initial resistance from a few, rapid globalisation and technological advancements mean virtually every business is embracing the digital modus operandi to keep up with the rapidly evolving business ecosystem and changing customer expectations. This journey towards embracing technological innovations and digital transformation has allowed modern businesses to rely on ever-increasing amounts of data to make agile, data-driven strategic decisions. Meanwhile, solid data management practices are the foundation of a more effective and stable digital transformation. Master data management (MDM) services can help you on the digital transformation journey, allowing you to effectively coordinate various functional aspects of your business and help you make well-informed business decisions (Calavon).
The Right Data Management Foundation for Digital Transformation Success
Despite the increasing reliance of modern businesses on data to drive their strategic decisions, master data management remains one of the areas modern businesses often overlook, underestimating the significance of a solid data management foundation when it comes to digital transformation success. Many businesses still have their data in silos— across categories like product, marketing, sales, or customers — and fail to consolidate this data. It is extremely difficult to share the data or glean holistic insights without effective data management strategies. However, if you have a solid data management foundation or leverage MDM as a service, you can easily move through the three phases of digital transformation, maximise your digital transformation ROI, and improve your operational efficiency (Axis Technologies; Kalsing).
The three phases of digital transformation, from legacy systems to an integrated data ecosystem are:
Phase One: Legacy State
In this first step of the digital transformation journey, businesses use data to make well-informed strategic decisions. However, this data is in multiple silos representing different business functions, like marketing, sales, operations, or customer relations. Although these data silos serve their purpose for each business function, they present significant challenges when sharing information or working collaboratively with other departments. Using persona-based technology stacks — like enterprise resource planning (ERP) systems, marketing technology, or customer relationship management (CRM) solutions — creates even more data silos as each department, region, and channel creates more data. Multiple data silos can lack globalisation and internal standards as various stakeholder relationships — customers, vendors, or supply chain partners — have different defining characteristics and significance for different departments. Being in the legacy state of the digital transformation journey does not necessarily mean that your business lacks modern technology and infrastructure but that you have not taken steps to build a strong data management foundation that would allow all your systems to work seamlessly together (Kalsing).
Phase Two: Integrated Enterprise
In this phase, the companies acknowledge that data silos are not working seamlessly and take the first steps towards putting business relationships at the centre of business activities and functions. These relationships are the foundation of all business functions and can offer a consolidated view of relationships between different business functions with the help of standard definitions for each relationship. The relationship-centric approach can help you create a digital experience that not only keeps the customers happy and loyal but increase loyalty and fulfilment among employees, vendors, and business partners as well. You can truly achieve this relationship-centric integrated enterprise phase if you establish a common version of the truth about various business relationships, allowing you to achieve data consistency across different functional aspects and departments of the business (Kalsing).
Phase Three: Connected Ecosystem
The third phase of digital transformation embraces the relationship-centricity of the organisation, where different departments and supply chain partners can engage, communicate, and collaborate seamlessly. And these relationships are data-backed, with consistent and accurate data. This allows the business systems to be more stable and allows businesses to explore growth opportunities with agile future-ready strategies. These ecosystems leverage common data and interconnected processes to facilitate holistic business insights. They can support multichannel initiatives, offering a foundation for seamless integration and uniform data-driven responses across the supply chain operations (Kalsing).
Master data is the foundation for a business to move through these stages of digital transformation, with effective master data management supporting the digital transformation from an integrated enterprise to a connected ecosystem. More and more businesses are turning towards master data management services to improve their data quality, enhance access to quality data, improve customer experience, and boost overall productivity. However, many businesses fail to understand the importance of relationship-centric data management and digital transformation, failing to connect MDM value to business value. As a result, Gartner predicts that by 2025, 75% of the MDM transformation initiatives will likely fail to meet the business expectations (Kalsing; Sood).
Defining Master Data and Master Data Management
Each customer interaction, business operation, and stakeholder interaction creates tons of data, but every piece may not be relevant to your business's strategic position. And for you to effectively use any master data services, you must define your master data, aka, the data central to all your business enterprise, without which you may not be able to run your business operations. Master data plays a key role in providing context for the transactional and analytical data for your business across the categories of parties (including customers, employees, or vendors), products, financial structures (including assets and accounts), and locations (including office locations, regional branches, or sales territories). The nature and components of this master data can vary by industry or individual business needs, and it is integral to virtually every business process (Tibco).
Master data management is a data service that covers technological solutions, tools, and operational procedures that allow you to collect, consolidate, clean up, and coordinate the master data from various data sources across the organisation. In short, MDM is a technology-enabled discipline that allows you to maintain official, consistent, and credible cross-departmental shared master data accessible to any stakeholder at all times. And as everyone is on the same page with uniform data, MDM-enabled digital transformation allows you to glean holistic business insights, driving cohesive strategic decisions that contribute towards a future-ready strategic position and sustainable competitive advantage (Calavon; Tibco).
Role of Master Data Management in Facilitating the Digital Transformation Journey
Data has become the new currency in the modern digital business ecosystem, steering not only the individual business strategy but impacting the industry trends as well. To survive, you must navigate the troves of data to find good quality, relevant information to drive your business decisions. Reliable master data and services are vital when it comes to the digital transformation of any business (Calavon).
And focusing on master data management for digital transformation can offer you some major benefits, such as:
Data Consolidation – The digital transformation journey touches every aspect of your business, allowing you to identify, record, and store every possible data point, from customer interactions to stakeholder collaboration. MDM services can help you consolidate information from multiple sources, turning pieces of disconnected information into actionable business insights (Calavon).
Improved Data Standards – Master data services ensure uniform data standards across all data collection points, allowing you to ensure data quality, integrity, and security. This involves streamlining your data collection processes, eliminating any redundancies, inaccuracies, or discrepancies in the data, and establishing a single source of reliable data for all to access (Calavon).
Consistent Data Quality – Master data is inherently inconsistent and "dirty" owing to the multiple data sources and different data points holding different significance for different departments. However, effective data consolidation with improved standards with MDM transformation means you will have access to consistent quality data at all times, with relevant real-time updates (Calavon).
Enhanced Data Security – Although master data services make the data accessible to everyone at any time, the right MDM transformation will allow you to implement role-based accessibility controls, improving data security and privacy while allowing enterprise systems to manage data more efficiently. Additionally, MDM services also prioritise privacy rules and data safety regulations, allowing you to safely work with the latest and reliable data and supporting your digital transformation efforts (Calavon).
Holistic Business Insights – The most significant benefit of master data management in digital transformation is the ability to access holistic business insights while gaining function-specific insights. As a result, you can identify the impact of one function on the business as a whole and use consistent quality data to make data-driven decisions to support your strategic position (Calavon).
Although successful MDM transformation is not the sole criterion for successful digital transformation, a good MDM service is the foundation for your digital transformation journey. With the right MDM system, you give your business the flexibility and resources necessary to grow in today's digital business ecosystem and scale without hampering critical business functions (Calavon).
Conclusion
Business digital transformation is no longer a luxury but rather a necessity for businesses to survive and be competitive in the contemporary digital business ecosystem. And the quality of data, and associated analytical insights, are the difference between success and failure. The right master data services can prove to be an invaluable asset in this environment, allowing you to streamline and optimise your digital transformation journey with data-driven insights. Leading BPM organisations — offering MDM as a service — can help you understand your master data management and digital transformation needs and allow you to leverage next-gen technology for a successful and scalable digital transformation of your enterprise.