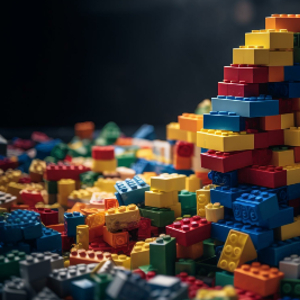 Anyone who knows me well knows that I like to build models with Legos as a diversion from my "data-ly" life. I was never fond of Legos when I was young, but started my Lego excursion when I saw a bright yellow Lego Ford Mustang kit that I had to have. Several years later, I have shelves of Lego models in my office — with everything from cars to motorcycles to boats to planes and helicopters, the lunar lander, a jazz quartet, a lighthouse, a VW bug, the Yellow Submarine, and of course, Frank Lloyd Wright's Fallingwater.
The colorful models are discussed more than Non-Invasive Data Governance among friends and family in my home for obvious reasons. Actually, neither subject is spoken about that often because they both present challenges that, once started, must be addressed. Once the Lego box is open, and the bags of pieces and instructions are set out, there is only one solution to that problem. Do the work. Once the data governance box has been opened, there is only one solution to that problem as well. Do the work.
Both building with Lego blocks and Non-Invasive Data Governance programs share a common objective. That objective is to create something exceptional. While one is a physical toy that sparks creativity and imagination, the other is a governance and management approach that aims to ensure data quality, security, and compliance without disrupting operations. This essay explores the parallels between these two seemingly unrelated concepts.
Non-Invasive Data Governance is a strategic approach that emphasizes the execution and enforcement of authority over, and the formalization of accountability for, an organization's data assets without disrupting the organization's priorities and processes. The methodology acknowledges that data governance should seamlessly integrate with an organization's operations and foster cooperative relationships. Similarly, when engaging in the assembly of a complex Lego model, which takes time, requires patience and following detailed instructions (rules), the builder must work harmoniously with each individual brick, understanding that not following the specific guidelines will most likely lead to inefficiency and ineffectiveness in achieving the desired outcome.
Legos and NIDG Resemblance
Let's start by sharing the similarities between building a complex Lego model and implementing an effective Non-Invasive Data Governance program. Consider, while reading rest of the essay, that you have convened a team of people — perhaps your family and friends in the case of the LEGO model — or a team of colleagues and interested parties in the case of data governance — to work with you to assemble the masterpiece. I have never completed a LEGO masterpiece that way, but will consider the complexities of working with multiple people on building a complex Lego model.
The parallels include:
Precision and Attention to Detail – Both Non-Invasive Data Governance and intricate Lego model assembly require meticulous attention to detail. In data governance, the accurate categorization and attribution of each data piece are critical, while in Lego construction, the correct placement of each brick is also critical to ensuring structural integrity.
Process Integration – Just as Non-Invasive Data Governance is woven into an organization's existing processes, the successful construction of a Lego model hinges on the seamless integration of every brick into the evolving structure. Disrupting this flow or assembling the model out of order could lead to confusion and errors.
Holistic Perspective – A thriving Non-Invasive Data Governance program acknowledges the interconnectedness of data elements within a broader environment. An accomplished Lego model builder envisions the final structure before beginning and systematically working towards the ultimate goal with a clear roadmap.
Adaptability and Flexibility – Non-Invasive Data Governance recognizes the ever-evolving nature of data needs and regulations. During Lego model assembly, unforeseen challenges might emerge, demanding adaptable solutions to maintain the model's coherence and overall integrity.
Collaboration and Communication – The implementation of effective data governance mandates collaboration between departments and transparent communication of data-related practices. Building a complex Lego model requires effective teamwork and communication to ensure that each piece aligns seamlessly with the overall vision.
Lessons Learned Harmony in Complexity – Both Non-Invasive Data Governance and intricate Lego construction underscore the importance of approaching complexity with harmony. Forcing solutions or components together often leads to fragmentation and inefficiency in both domains.
Long-Term Vision – The requirement of data governance aligning with an organization's strategic objectives mirrors the Lego builder's requirement for a clear long-term vision. In both cases, success is contingent upon understanding the end goal and working diligently towards it.
Respect for Components – Just as data governance respects the individuality of data elements and data stewards, Lego model assembly instills an appreciation for the distinctiveness of each brick. Recognizing the role each piece plays contributes to the overall success of the endeavor.
Adaptability and Creativity – Both data governance and Lego construction underscore the significance of adaptability in the face of unforeseen challenges. This highlights the need for creative problem-solving and flexibility to overcome obstacles.
The striking parallels between implementing a Non-Invasive Data Governance program and assembling a complex Lego model reveal the timeless lessons embedded within these seemingly disparate activities. The shared attributes of precision, attention to detail, process integration, holistic perspective, adaptability, collaboration, and long-term vision underscore essential principles that transcend boundaries. By looking into these parallels and embracing the lessons learned, organizations can foster superior data management practices, while individuals can refine their problem-solving skills and their capacity to tackle intricate tasks with finesse.
Common Hurdles
Now that we have established that building with Lego blocks and following a Non-Invasive Data Governance approach share striking similarities, let's also investigate connections between the challenges that are presented while working toward the final product or discipline.
While both Non-Invasive Data Governance and building with Legos emphasize versatility and flexibility, allowing individuals, teams, and organizations to adapt to various scenarios and challenges seamlessly, incremental progress is key in both worlds. Builders and data managers must prioritize iterative improvements to achieve their objectives. Collaboration and communication play essential roles in both processes, encouraging teamwork and cross-functional cooperation.
Both Lego building and data governance face challenges during implementation, but their inherent characteristics equip them with the tools to overcome such obstacles. When creating intricate Lego structures, builders may encounter design challenges. However, the inherent modularity and adaptability of Lego bricks allow them to find alternative solutions and revise their designs easily.
Other similarities in challenges include the limited availability of certain Lego pieces and how that might limit builders' options. Nevertheless, this encourages resourcefulness and the exploration of innovative techniques. Employees may resist new data governance initiatives, fearing disruption to their established workflows. Non-Invasive Data Governance addresses this concern by embedding policies into existing systems and processes. Data governance often faces the challenge of fragmented data scattered across various departments. A non-invasive approach promotes data collaboration, breaking down silos and enhancing data sharing.
Ungoverned Data and Legos Without Instructions
Building intricate Lego models without instructions and getting value from ungoverned data share additional challenges that stem from the lack of structure and guidance:
Lack of Direction
In both scenarios, the absence of clear instructions or governance leaves individuals uncertain about the path they should follow. When building intricate Lego models without instructions, builders may struggle to visualize the final design or determine the correct sequence of brick placement. Similarly, organizations dealing with ungoverned data lack guidelines on how to manage, process, and analyze the data effectively, leading to confusion about the data's potential value and utilization.
Complexity and Overwhelm
In the absence of instructions or data governance, complexity can overwhelm both Lego builders and data stakeholders. Intricate Lego models may involve numerous pieces with intricate connections, making it challenging to maintain structural integrity and ensure every brick fits perfectly. Similarly, ungoverned data often comprises vast amounts of unstructured, diverse, and redundant information, making it difficult for organizations to identify valuable insights amidst the chaos.
Potential Errors and Inefficiencies
Both contexts are susceptible to errors and inefficiencies. When building without instructions, builders might misplace bricks, leading to structural weaknesses or design flaws. In the case of ungoverned data, inconsistencies, inaccuracies, and duplicate records can hinder data analysis and decision-making, resulting in flawed insights and operational inefficiencies.
Missed Opportunities
The absence of instructions or governance can lead to missed opportunities in both scenarios. Builders may overlook innovative techniques or creative possibilities that could enhance their Lego models. Similarly, organizations dealing with ungoverned data might fail to recognize valuable insights, potential cost savings, or opportunities for process improvements that could significantly benefit their business.
Risk of Incomplete or Incoherent Outcomes
In both cases, the lack of structure can result in incomplete or incoherent outcomes. Without clear instructions, Lego models may lack essential components or exhibit inconsistencies in design. Similarly, ungoverned data can lead to fragmented or incomplete datasets, hindering comprehensive analysis and decision-making.
Data Security and Compliance Concerns
In the absence of data governance, organizations face data security and compliance risks. Ungoverned data may be prone to unauthorized access, data breaches, or mishandling of sensitive information, potentially leading to legal and reputational consequences.
Difficulty in Scaling
Building intricate Lego models without instructions and deriving value from ungoverned data become increasingly challenging as complexity and scale increase. As the Lego model grows in size and intricacy, it becomes harder to maintain a coherent structure. Similarly, as an organization's data volume and complexity expand, the difficulty of extracting meaningful insights from ungoverned data grows, impeding effective decision-making.
Conclusion
Both building intricate Lego models without instructions and trying to extract value from ungoverned data share common challenges arising from the lack of structure, direction, and governance. The complexity, potential for errors, missed opportunities, and risks associated with these situations highlight the importance of structure, guidelines, and governance in achieving successful outcomes. Just as following instructions ensures a well-constructed Lego model, implementing effective data governance is essential for organizations to unlock the full potential of their data and make informed, data-driven decisions.
The comparison of Lego building blocks and non-invasive data governance programs reveals striking similarities in their approach to creating masterpieces. Both emphasize versatility, flexibility, incremental progress, collaboration, and seamless integration. While Lego sparks creativity and imagination, non-invasive data governance empowers organizations to harness the potential of their data responsibly. By understanding and applying the principles of both, individuals and organizations can build enduring masterpieces in the physical and digital realms.
LEGO is trademarked and copyrighted by the LEGO Group.