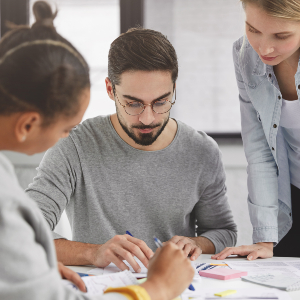 Recently, I attended the CDIO Conference in Boston where I had the pleasure of hearing the two Toms (Tom Redman and Tom Davenport) — gurus of data — introduce the concept of tweeners to the data management world.
As I listened to their explanation of a tweener (someone who sits with one foot in data and one in the business), I realized that this important position could be implemented in different organizations and used to connect them — sales and marketing, finance and sales. For data and business organizations, I have been a Tweener my entire career.
Because I have played the role in various organization, I felt compelled to lay out some attributes for hiring and placing good "tweeners." Although you may still have to figure out where the tweeners sit, the right place will depend on your organizations and what connections you need to make with data and the business. Once you've determined where your connections are most important, then you need to find the right people to make those connections. Here are some attributes to look for in a tweener:
Curiosity and An Open Mindset
This should be primary attribute for any job in business today simply because the pace of decision making is staggering and those with closed minds about how to pursue strategies often end up as impediments to the business. Curiosity is especially important for Tweeners because it leads to new ideas and new ways of doing things. Having an open mind allows one to kill off the good ideas that will never make it. These traits often come together in one human, but need to be tested. When looking for this skill, explore your candidate's background for times and situations where they (1) had to create a path never traveled before, (2) had to kill their pet project, or (3) underwent a setback in their career. Ask them how they felt, what they did, and how they feel now about what they did.
Fast Learner
A tweener lives every day not knowing exactly how the day will play out. New technologies, new ways of doing things — all add to the complexity of the routine. This environment requires someone who can learn rapidly from reading, listening, experimenting, and doing. When interviewing for this skill, ask your candidate about a time in their career when they were given a new task to do. What was their level of competence when they started? What did they do to become more competent? How long did it take them to reach the level of competency required?
Good Listener and Question Asker

I always tell people that my educational background as a journalist has served me well. It has especially been good to me when I acted as a tweener between sales and marketing, between data and IT, between data and the business. The skill I learned in journalism was the art of asking a question. But the skill of listening is one that has to be honed over time. Often, we listen with only one purpose in mind — responding. This one thought keeps us from absorbing carefully what the other person says. Tweeners should be extremely good listeners. The combination of a good question and someone who listens carefully to the answer is rare. When interviewing a tweener candidate, listen for the questions asked of you and how well they are really listening to your response.

Ability to Simplify the Complex and Effectively Communicate It

Complexity abounds in every aspect of business today, not just in technology. A tweener should have the ability to take the most complex of topics and break them down into bite sized, understandable bits. With the bits in hand, they should also be able to contextualize those bits and communicate effectively to a broad number of people from frontline workers to CEOs. Being an effective communicator regarding data means understanding not just the vocabulary of data, but the business context in which it is used. When looking to hire a tweener, ask the candidate about what they have done in the past to simplify complex topics and communicate them. Every candidate — whether new to the business or not – should have at least one example of having done this kind of task.
Knowledge of Data and the Business
Finding individuals who have knowledge of the data within a line of business is not really a hard task. The difficulty comes in convincing a financial analyst that is good at managing financial data to take on the task of communicating to the data managers and IT. Most individuals find that a clear career path is important. So good financial analysts have their sights set on the CFO job — not the CDO one.
Because tweeners are connectors, the job should be positioned as one that grooms one for general manager/executive slots. It's a fantastic role for helping to assess fast-trackers within a company. Are they capable of bringing together teams, inspiring and guiding them even when they may not have direct management responsibility for the team members?
Knowledge of data and the business is of course important for a tweener but it is table stakes for an effective tweener.
Program/Project Management Capabilities
Program or project management skills are important for any job, but for the tweener job, these skills should be in their back pockets, ready for use. Managing many moving parts requires discipline, understanding every minute of the day where the organizations stand on key issues being tackled. Evaluating tweener candidates means looking at the size and complexity of projects or programs they have management in the past. One of my favorite questions when interviewing for this skill is, "Looking back, how do you feel about the outcome of your last big project?"
Even Tempered and Capable of Juggling Many Different-Sized Balls.

I recently heard a graduation address where the speaker made the comment that "the nicest person in the room is often the smartest." In thinking back over my career, that truth has been very evident. Smart people know how and when to speak, how and when to show their emotions. Although, I'm not sure I ever mastered this attribute. Nevertheless, it is important when conversations between groups get heated. The cool head in the room should always be the tweener — listening for the compromise position.

Now, imagine a duck calmly swimming across the pond. It looks very serene and no one sees how frantically it is paddling underneath the water. That ability to handle a dozen things while remaining calm and thoughtful is a key characteristic of a good tweener. Never let them see you sweat.
Tweeners are probably already in your organization attempting to bring clarity to data and business, but chances are, they are not being recognized for this effort. The two-Tom's work in this area provides an opportunity to identify it, highlight it and bring it to the forefront of your data strategy.